The first year of your real estate career is the most important … and possibly the most challenging … that you'll face.
In this blog post, we dig into 10 ways you can successfully kick off and maintain your first year as a real estate agent. Simplify your real estate tool kit and maximize your opportunities in this competitive market with these tips and tricks, including the Lone Wolf tools that will work with you.
1. How to Generate New Client Leads Through Networking
Your network, or sphere of influence, is made up of friends, family, former clients, and others who you are personally connected with. So how do you turn your sphere into leads? The answer: With a customer relationship management (CRM) tool that can automatically send out helpful information to keep you top of mind.
 
It takes time, effort, and a mix of tools to find new qualified leads then nurture those new relationships so you can ultimately close more deals. Automated CRM tools like LionDesk offer simple ways to reach out to leads or past clients at the right time and convert them faster by automating your campaigns with emails and texts, a tool to manage automated drip campaigns in one place … and much more. Send out market updates to show that you are the expert even IF you are new to being a real estate agent. 
Read more about how CRMs can help as you start on your real estate journey, or try it for yourself firsthand! Start a 30 day free trial of LionDesk here, no commitments or credit cards needed.
2. Get Your Name Out There 
So you've passed the real estate exam and are ready to take on your new business. But now what? How do you go about getting leads? Paid advertising is a quick and easy way to start building your branding and bringing in a quality stream of leads. Lone Wolf offers two great solutions for quality lead generation. If you're not sure where to start, BoldLeads will connect you with experts who will handle all your online marketing and follow-up for you, so you can focus on other areas of your new business.
Or if you'd like to be more hands-on, Boost is a fantastic digital marketing that will feature your listing or agent promo ads on websites, social platforms, and even the popular neighborhood app, Nextdoor. Plus, you can set up your own ad and get it launched in your geographic area in under 15 minutes, right from your phone! 
What's even better is the native integration between Boost and LionDesk. More tools in one place? Yes, please!
3. Find New Clients Through Open Houses
Open houses are a great lead source to both find new clients and offer a way to get your name out there for visitors not quite yet ready to buy. And in this modern world, it's time to ditch the printed sign-in sheets and bring the sign-in process to the digital side.
Spacio, the industry's top open house mobile app, allows you to capture the contact info of every open house guest on either their mobile device or yours … which is then synced into your CRM for personalized, fast follow-up, and retargeting campaigns to qualified buyers. Plus, Spacio offers the flexibility to collect visitors' info for both in-person or virtual open houses. 
Pro tip: Offer to run open houses for other listing agents. This helps them out AND you as the new agent to connect with people who are looking to buy homes—even if the home you're showing isn't the right one for them.
Free Resource Alert: Not sure where to start with open houses? Dominate your next open house with these free resources including a Customizable Welcome Sign In Sheet, Open House Scripts and a Pre, During and Post Open House Checklist. Get yours here!
4. Create Your Own Home Search App With Your Name/Brand
When you follow-up after open houses, you can send Connect to potential buyers, which is a modern, branded-to-you home search app. Connect isn't your average home search app. Its superior data coverage and speedy collaborative features are second to none.  
The app offers the most up-to-date property and neighborhood details, and an option to search using Augmented Reality to instantly view nearby properties. Its text message-style interface lets your clients directly contact you with questions on properties, or even schedule showings in real time. Users can also save and share their favorite properties, play with the interactive mortgage calculator, and estimate commute times to and from multiple locations. Talk about instant gratification … and an amazing user experience. It gives clients direct control over their home search experience while positioning you as the expert. It's a win-win!
5. Set Your Buyers up With Listing Alerts Via Text Messages!
Did you know that 95% of texts are opened in the first five minutes of receipt? Talk about a fast turnaround versus other communication channels! Cloud Streams texts your buyers the fastest listing notifications around—faster than Zillow, Trulia, Redfin, and Realtor.com.
With a listings alerts solution like Cloud Streams, listing alerts pull information directly from your MLS, are branded to you, and get sent straight to your clients' phones via text—ensuring they truly hear about new listings the moment they hit the MLS—and are being able to respond directly back to you.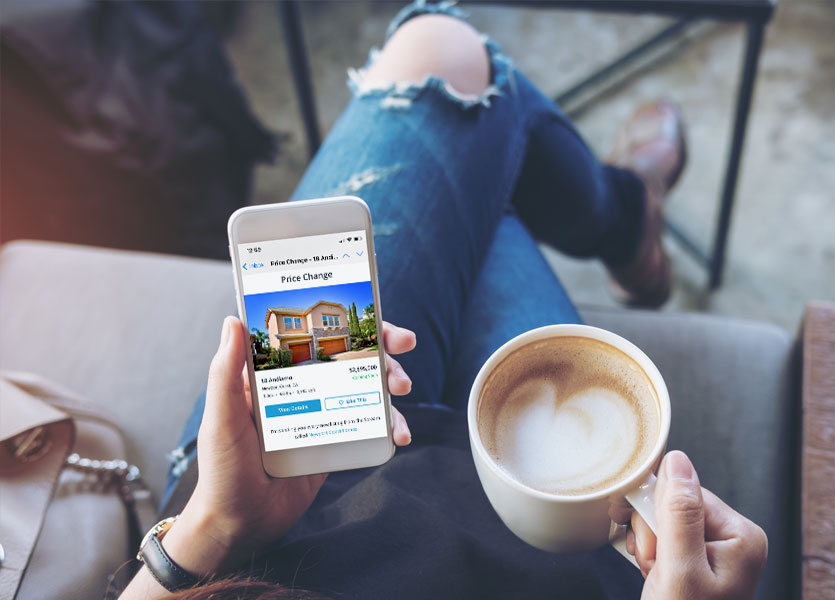 If you're looking to text other resources, follow ups, or anything else, use LionDesk's native texting feature to stay top of mind! (Included in any of these bundles)
6. Search the MLS Like You Would Google 
Modern tools that tap into your MLS data can give you an easier, more intuitive way to stay on top of your market. Cloud MLX, for example, helps agents search the MLS like Google, using a tailor-made, modern interface personalized to your needs. No training required. 
No more spending hours checking dozens of boxes to find listing features that match your clients' needs … type out features in the search bar instead. Create custom searches of new listings, pending listings, expired listings, and much more to capture a full picture of what is happening in your market. Buyers will be impressed by how quickly and easily you can help them find listings that match their preferences.
7. Give winning listing presentations And Competitive Marketing Analysis Reports
In this low-inventory and highly competitive market, making a memorable first impression is crucial if you want to win a prospective seller's listing and become their go-to agent. When it comes to the listing presentation, a cookie-cutter presentation is not going to cut it (no pun intended).
Listing presentations are centered around comparative market analysis (CMA) reports to show buyers local comp info and market analysis while they prep their home for selling. Lone Wolf's Cloud CMA gives agents a fast way to compile and create stunning, informative digital (think Zoom presentations) or printed CMA reports (as a great leave-behind for buyers)—no graphic design experience needed or hours and hours of pulling in data from various sources. As the best in the market, Cloud CMA's digital reports are interactive and offer agents the ability to collaborate with clients during a presentation by adding/removing comps on the fly.  
Learn more from our 2021 Best Practices for CMAs and Listing Presentations survey results. 
8. Keep Up to Date With MLS Data and Market Trends 
As an agent, you know that one of the biggest factors in property sales is pricing … and doing it right. Homes priced correctly sell faster—and even for a higher price—than those priced too high from the get-go. So besides running comp reports in Cloud CMA as you put together CMA reports for listing presentations, you can also use the MLS data pulled to proactively get your own listing.
The most up-to-date, reliable data comes directly from your MLS, but it's time-consuming when you're trying to focus on your real estate business. On a regular basis (weekly may be best in this market!), it's a good idea to use Cloud CMA to pull your own reports, even if you don't have a current listing. This tool works with your MLS to provide the same trusted, accurate data … that is broken down into actions you can take, right when you need them. And all of this means that when a seller comes to you with questions, you will be armed with the answers to their questions about the local market, including local comps, pricing, or how fast homes are selling.
Pro tip: If you find something extra interesting, share it on your Facebook page or in your e-newsletters!
9. Keep Your Transactions Speedy and Organized  
When you win your first listing, your first transaction process might seem a little bit daunting. After all, there are many steps, and it can be a lot to think through! But with a good transaction management tool in your back pocket, you can easily stay on task, maintain compliant—all in one place
Join the over 1.5 million real estate agents across the US and Canada who use Lone Wolf Transactions. Transactions (zipForm Edition) is an easy-to-use comprehensive management tool with the industry's top electronics forms and forms editor, eSignature, document storage, and back-office integration in one convenient spot! Plus, you can even add other special features from our Marketplace to make starting and closing deals easier, including digital title ordering, digital home warranties, and more, right from within Transactions.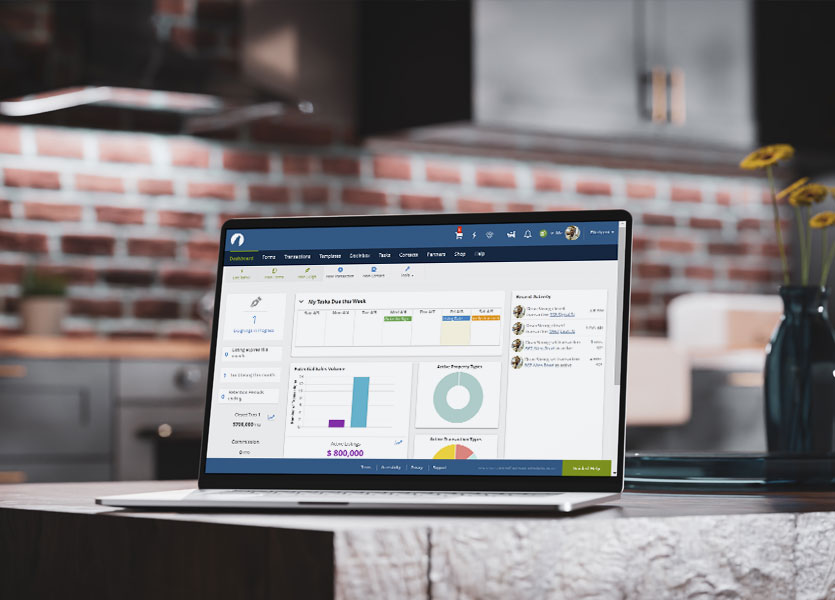 10. Find Tech Solutions That Work Together  
You know that you need to employ tech to help you in your day-to-day functions … but with thousands of real estate solutions on the market, it can feel overwhelming to find one that works for you. To make it easier, look for solutions that work together for you—rather than a bunch of disconnected solutions. As we've said before, technology should be a bridge, not a barrier.
Lone Wolf is your one-stop-shop for all your real estate tech needs, with four amazing products to help you start out your real estate journey. With the new connections to Boost, LionDesk, and Propertybase Go, Transactions users can buy listing ads while working on a deal, launch promo ads, check ad campaign status, pull contact details into their forms and signings, and start a transaction right from their CRM contacts, all in the same system.  
This smooth, connected experience gives agents like you a single system to guide the entire home buying and selling process for your clients while you keep your business moving forward from lead to contact, contract to close—all the while saving you a ton of time and hassle. 
 
New real estate agents need to keep up with the busy real estate market and cut through the competition, especially in this crazy market! At Lone Wolf, we have the tools and expertise to help you do just that. 
Bonus Tip: Try This Real Estate Tech for Free
And by using LionDesk at the center of your tech, you can't lose. Try free for 30 days to get started, it'll be one of the best business decisions you ever make.
---